Notice to all lockup volunteers


As a result of the fallout from the Zimmerman case in a county north of us, the following rules must be followed:
1.All references to our lockup program, etc., will be known as the Neighborhood Watch
Program. The term "Security" is NOT to be used. This is a recommendation of the HOA insurers
2.All procedures for locking up the buildings, checking the gates, etc., can be found in the new patrol manual found on the lockup schedule page.
3.ALL INTRUDERS AND SUSPICIOUS INCIDENTS ARE TO BE REPORTED TO THE LAKELAND POLICE DEPT via 911. DO NOT CONFRONT OR PURSUE!!!
Our function is to observe and report. After calling the police, advise the Watch Commander, TBA
4. Wait for police arrival and give them whatever information you have that might assist them.
For park residents: Who to call and when
If you or your property is in immediate danger,dial 911
If you identify any suspicious activity elsewhere in the park, dial
834-6900 and report same.(this number goes directly to the Lakeland Police Department for non-emergency calls)
Then please report your police calls to one of the
Neighborhood Watch Commanders,
Rick Galarneau, Winter/Summer 413-330-2697
Tim Wiggins, Cart control/maintenance 817-614-6456
Lakeland Police Partners with Ring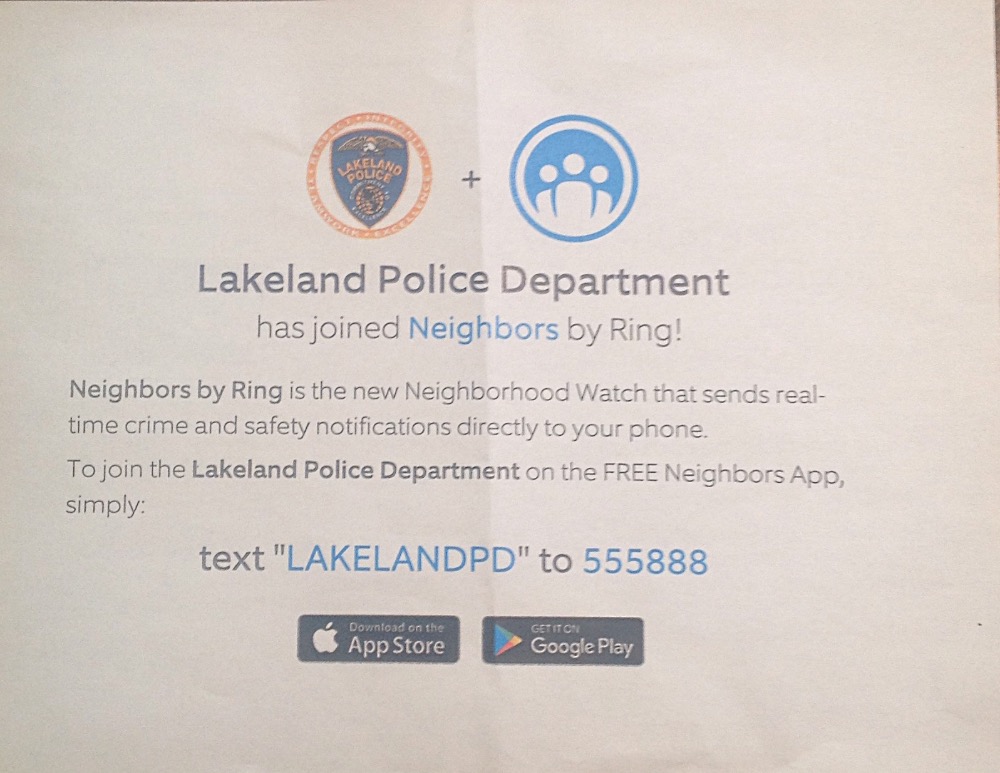 G